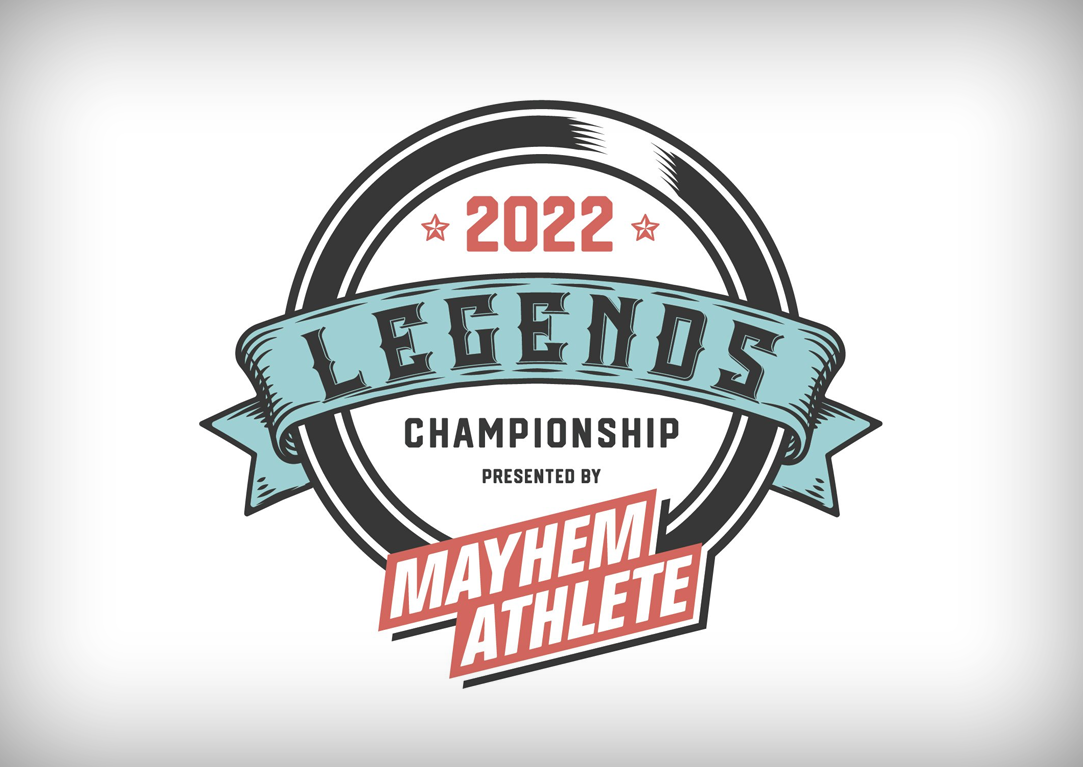 MASTERS ONLY COMPETITION PRESENTED BY MAYHEM ATHLETE
2022 Legends Online Qualifier – Aug 17th – Sep 7th
AGE GROUPS | 35-39, 40-44, 45-49, 50-54, 55-59, 60-64, 65+
The Online Qualifier will have two divisions. Rxd aka qualifier for the Championship and Scaled.
Rxd will qualify you for the 2022 Championship.
Scaled will use the qualifier workouts, which will scaled to be able to include more of the Masters Community in our fun, to crown the champ from each division! At the end of the qualifying period a video review will take place and prizes will be provided as well as custom T shirts to celebrate the accomplishments of the top 3 in each age group.
Additionally we are providing a $1000 prize for the top affiliate/gym with the most registrations for the online qualifier. For the smaller gym communities we are doing a raffle for $500. Every gym that has 10 registrations will receive an entry into the raffle as well as an additional entry for every registration above 10. Rxd and Scaled both count to these prizes.
2022 LIVE EVENT QUALIFIERS:
Live Event Qualifiers are 2-3 day events held by select groups of people with experience hosting a fitness competition. These will allow an athlete to qualify for the Championship thus bypassing the online qualifier. Read more below in the "Additional Qualifying Routes" section.
United States
MASTERS OF THE COMMUNITY: COLORADO SPRINGS, COLORADO – JUNE 11-12
LONE STAR LEGENDS: DALLAS, TEXAS – JUNE 25-26
THE MONSTER GAMES: JOPLIN, MISSOURI – JULY 15-17
LEGENDS AT HOLLY SPRINGS: HOLLY SPRINGS, GEORGIA – JULY 16-17
THE CARNEVALE GAMES: LONG ISLAND, NEW YORK – AUGUST 6-7
International
THE MASTERS: SALTILLO, COAHUILA, MÉXICO – APRIL 9-10
---
2022 Legends Championship Presented by Mayhem Athlete – December 8-11
Venue
CROSSFIT MAYHEM
COOKEVILLE, TENNESSEE USA
---
ONLINE QUALIFIER DATES FOR 2022
May 30th
REGISTRATION BEGINS
August 17th
All 6 workouts released and start of the Online Qualifier. We use a blind leaderboard. Scores submitted can not be viewed until Sep 7th
September 7th
Registration closed and all 6 workout scores AND videos must be submitted by 5pm PDT
September 14th
1st round invites sent
2nd round invites sent TBD